About us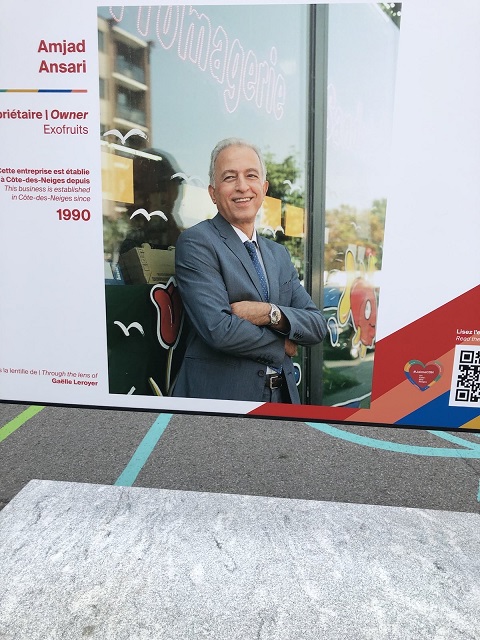 As part of the Portraits of merchants & professionals of Côte-des-Neiges project, we invited Zeineb Khalfallah (@zeineb_conscience on Instagram) to join us in our visit of 11 businesses of the SDC Côte-des-Neiges who have participated in the project. In addition to the exhibition on Promenade Jean-Brillant of the pictures taken by Drowster and Gaëlle Leroyer, Zeineb shares with us the moments she took with the owners and managers. Learn more about your merchants and professionals of the Côte-des-Neiges district! // Find out more on Zeineb talks and meet Amjad, owner of Exofruits the famous local grocery store.
Walking through the aisles at Exofruits is like floating on a cloud! The colors of the different fruits and vegetables, the smell of the fresh cheese and the diversity of the products available make this grocery store THE dream destination for those who want to take care of their diet while making room for novelty. Moreover, one could feel the serenity in the approach of all the customers who had come from everywhere to fill their fridge.
When we arrived at our destination, one of the cashiers happily welcomed us, while Amjad Ansari, the person behind Exofruits, received us for an interview. The businessman also showed us the backstage of his grocery store. We went through the storage area to get to his office which offers a global view on the lively streets of Côte-des-Neiges.
Amjad is of Iranian origin and came to Canada in 1990 with the ambition to create a family business. For Amjad, family is important and that includes all its members, including his nephews who accompanied her in this adventure. "My nephews who lived here found this business and told me about it. We jumped right on board, since we wanted to go into entrepreneurship as a family." Explains Amjad.
Amjad's plan was not long in coming, as he opened Exofruits immediately after his arrival in 1990. One of the things Amjad appreciates the most about his experience in Côte-des-Neiges is its citizens and the interactions he has with them. "The customers, the employees and the merchants here are all very nice. All these people encourage our project!"
Since its inception, Exofruits has served its customers with high-quality products and impeccable service.
"We see people who have been coming here for years! We only serve food products, but in a way, this grocery store is part of their daily life. We're helping to improve the diets of our customers, too." Amjad concludes.
Writer-journalist-reviser: Zeineb Khalfallah | Photo credit: Gaëlle Leroyer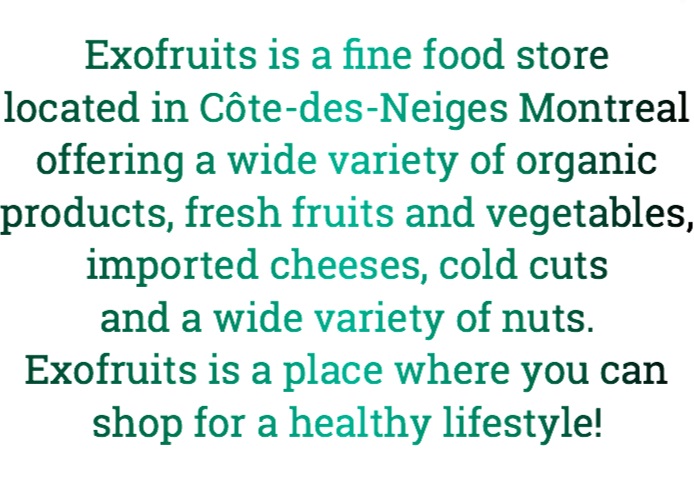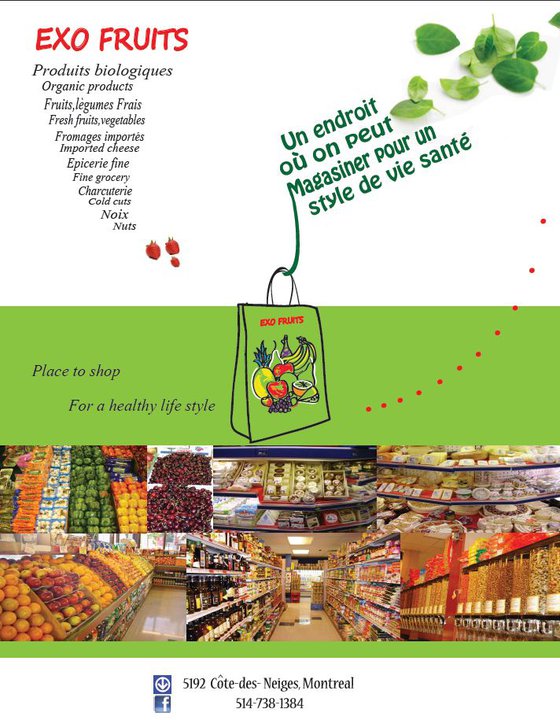 ExoFruits is a specialty
grocery store located in
Côte-des-Neiges, Montreal
for over 30 years.
The place to shop for a
healthy Life Style!
Exofruits is a fine food store offering a wide
variety of organic products, fresh fruits and
vegetables, imported cheeses, cold cuts and a
wide variety of nuts.